Melissa & Valery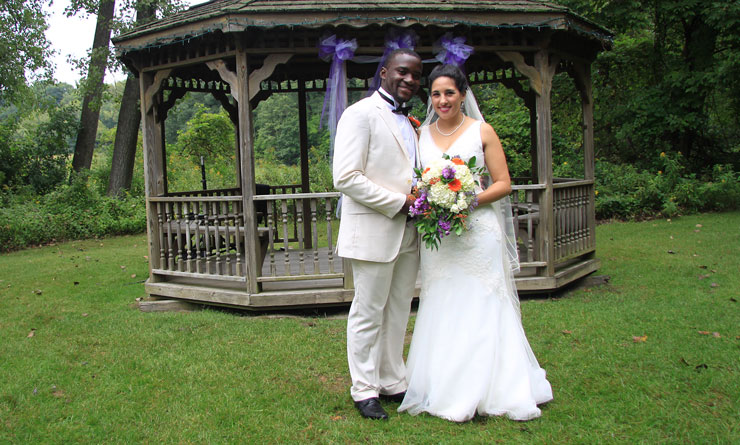 Our first contact with Melissa & Val:
"We are looking for someone to document our joyful, relaxed, inter-cultural wedding in Rochester on September 7th.  Please let us know of your availability.  Thank You.  Melissa & Valery"
Here is a short video to give you a feel for the beauty of the day.
Joyful, Relaxed, and inter-cultural  was a perfect description for this beautiful wedding.  The participants as well as the guests were joyful and relaxed and came from all over the world!
The setting for this outdoor ceremony setting was Glendoveers on old Browncroft Road in Penfield, a first time venue for us.  The day was overcast and there was a slight misting going on but the decision was made early that the ceremony would be outdoors.  Keeping equipment dry was a bit of a challenge but we were all prepared for the elements and from a videographers perspective the conditions provided gorgeous light for filming.  The bridesmaids purple dresses with orange floral accents really popped, and the combination of cultural music selections and emotion filled speeches against the natural backdrop made this ceremony very impressive.  
We enjoyed working with Melissa, Val and their families.  Here is what they had to say about working with us:
Dave and Darlene went ABOVE and BEYOND for our September 2013 wedding!  They listened carefully to our vision and fulfilled it beautifully–the final product was exactly what we had envisioned for wedding video. They even added a few perks in for no charge to achieve the best version of what we had asked for. In addition to the excellent visual quality, the sound is crystal clear. We are very impressed and pleased with how well we will be able to listen to our music choice, readings, and vows for years to come. The Dupreys were extremely knowledgable, accommodating, and helpful throughout the entire video process and were patient with our multi-faceted, unconventional ceremony and reception. Thank you, Duprey Video!
We also enjoyed working with:
Paul Mattison of North 40 Photography
Glendoveers Banquet Facility
Encore events DJ