We are a husband and wife team that truly enjoys what we do! We have been married for Forty-two years and in business together for twenty-nine. We are the parents of three adult children and two adorable grandchildren.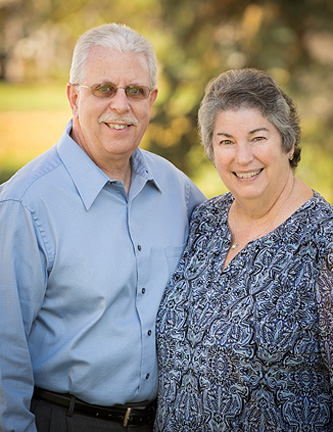 When not working, we enjoy having fun with family and friends, traveling, and volunteering in community organizations. Dave served on the Village Board for twenty years. He is co-chair of the Celebrate Commemorate Memorial Day Committee. Darlene enjoys nature photography and gardening. As co-chair of the Waterloo In Bloom Committee, she jokes that her garden has grown to include the whole Village of Waterloo. Members of St. Mary's Parish, Darlene also serves on the Parish Council and Finance Committees.
Using state of the art equipment & technology we shoot with HD cameras and edit on digital editing systems. We take great pride in the products we deliver to our clients.

— Dave Duprey
Dave is the lead videographer and editor at Duprey Video Productions.
Darlene is the business manager and second videographer for multi-camera events. "Having worked together for so long, I have developed a sense of how to compliment what Dave is shooting. It is important to have a second perspective. Besides, somebody has to keep an eye on him!"
The majority of our work comes from the referrals of clients. We enjoy producing a variety of videos, including corporate videos, documentaries, and various special events, but preserving memories is the most satisfying. We take pride in our work and use state of the art equipment & technology.
Lets talk about your project! Give us a call, we will be happy to meet with you personally and help you design your own unique video production.
Who we have worked for:
Advanced Atomization Technologies, LLC
Zotos International
Cornell  University – Social Media Office of Marketing and Communications
Women's Rights National Park Service
New York Chiropractic College
Seneca Meadows Landfill
IESI/Progressive Waste Solutions
Seneca County Chamber of Commerce
Sessler Wrecking
American Landmark Festivals
Finger Lakes Workforce Investment Board, Inc.
Village of Waterloo
Finger Lakes Works with their Hands
Willard Memorial Chapel
Food Network, Canada
Corporate Care
McQuay International
Goulds Pumps
Ramada Geneva Lakefront
Time Warner Cable