A Duprey Video Production Has Been Nominated for "Promotional Video of the Year" Award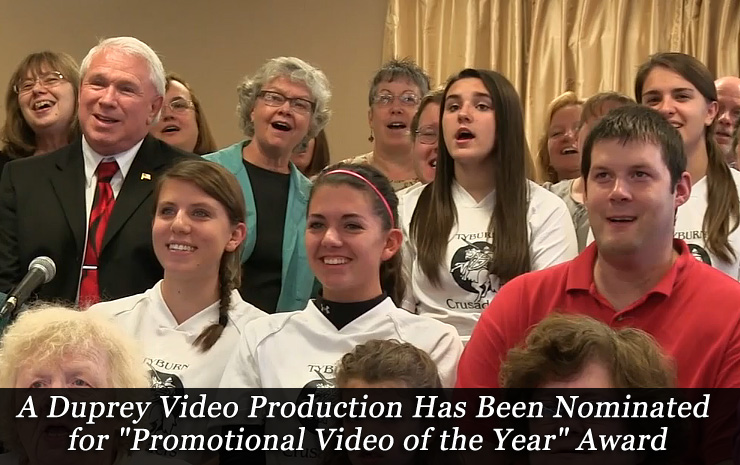 A Duprey Video Production has been nominated for the "Promotional Video of the Year" Award for a video created for the Seneca Cayuga ARC.  Viewers can visit the NYSARC webpage to vote for the "Video of the Year".  We thank you for your vote.
View Announcement Reprinted From the Finger Lakes Times
AROUNDTOWN

Seneca Cayuga ARC is one of 10 NYSARC Inc. chapters across the state whose promotional video is up for the inaugural Choice Award, which recognizes excellence

by a NYSARC chapter through promotional videos and commercials. Director of Development Steve Chartrand said the video, titled "Imagine," was created to support the agency's first Capital Campaign, which is just ending its silent phase. Dave and Darlene Duprey of Duprey Productions, produced the video, which was shot from several agency sites in Seneca and Cayuga counties. Chartrand said, "I think this video captures the true essence of who we are and what we do and how valuable our services are to people with developmental disabilities."

The final chorus of the song is sung by people who receive services, staff, volunteers,community members, family and friends. Online voting will run through Friday, Sept 6. The winner in each category will be honored at NYSARC's Annual Convention in October.  To vote, go to www.nysarc.org/index.php?cID=212. For more information on programs and services, call Kathleen Carney at 612-0129.
Facebook Post Announcing the Nomination